EARLY REGISTRATION: $25 OFF!
Register by June 15th for $25 off!
Week 1: July 8th | Week 2: July 15th
Week 3: July 22 | Week 4: July 29th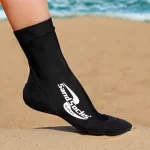 Sand socks are perfect for protecting your feet on the sand. Socks can be purchased prior to the tournament date and can be picked up ON tournament day at team check in.